Hello all,
Currently, when a Live Data is displayed and the user has the right to edit one of the displayed property, double-clicking on it allows to switch the property to edit mode and edit it in place (see https://jira.xwiki.org/browse/XWIKI-18659).
This is causing some user experience issues:
if the property is of type link, the user is forced to click on the div, but not on the displayed link as otherwise the link is followed and the user is directed to the target of the link, even if his intent was to double-click to edit
triple-clicking to select the whole content of a cell is not possible
To address these issues we decided to:
disable following clicks on link when the entry is editable
introduce a popover on single click, proposing the following actions:

edit the entry
select all and copy to the clipboard
(only for the links) follow the link
While starting to implement it, I've found some things that I think need to be discussed collectively.
Topic 1: Should actions be displayed with a label, or just a title?
Choice 1: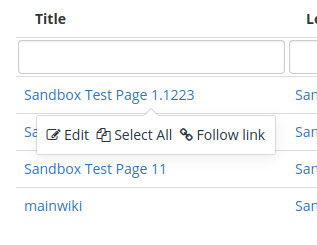 Choice 2: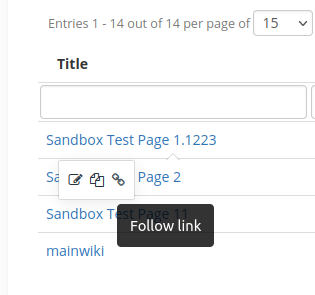 The first choice is more descriptive about what the actions are doing but more space consuming than the second choice.
While the choice 2 does not show the action labels upfront, hovering on the icons displays a title with the description of the actions.
Topic 2: When should the popover be displayed
The granularity of the right to edit can be done at three levels:
the Live data
an entry
a property in an entry
That means that a user can be allowed to edit all or part or a Live Data and we currently do not provide a clue to indicates whether or not a given entry is editable by the current user.
As we currently disable the default behavior of the links only when the entry is editable, the user cannot know in advance when clicking on a link if a popover is going to be displayed, or if he will navigate to a new page.
The alternative is to always display the popover on link, eventually with a single follow the link action.
While this prevents unexpected navigations, the user will be required one more click when he actually wants to follow a link.
So we have 3 choices:
only activates the popover on editable link entries
always activate the popover on link entries
provide a visual clue when an entry is editable
I think the last choice is interesting but I did not find an good solution for it so far.
WDYT?