Hi all. First of all, again, a big thanks to all contributors who made this great platform possible. We're using it for several months now and are generally very happy, especially with the huge functional flexibility and configurability which is provided via the UI.
Our setting: 13.10 with PostgreSQL and Tomcat behind a Nginx proxy and a Kubernetes deployment. We implemented 17 subwikis and some 1.500 custom pages, with currently around 25-30 users.
Lately, the page load performance seems to be degrading a bit and I'm trying to nail down the reasons. One hypothesis is that it has to do with the Page Cache but I'm not 100% sure, so let me first share the symptoms:
Quite frequently when we're accessing the "Main" pages of the subwikis, it takes several seconds (typically 2-7) to load, even if no other user is active. These "Main" pages still are the shipped versions and don't have anything special.

I've been using the debug=true URL parameter and could identify time is spent executing several Velocity templates belonging to the Flamingo skin. E.g. the frequentlyUsedDocs.vm which just executes 6 getDocument() calls and sometimes takes 1-2 seconds to execute, especially for the call #set($preferencesDoc = $!xwiki.getDocument('XWiki.XWikiPreferences')).

As these get-calls are probably spread a lot around the templates it's not surprising page loads become slow. Another template which takes its time to execute is especially the drawer.vm, but also others.
Here's a screenshot of the startpage.vm part of a typical page load: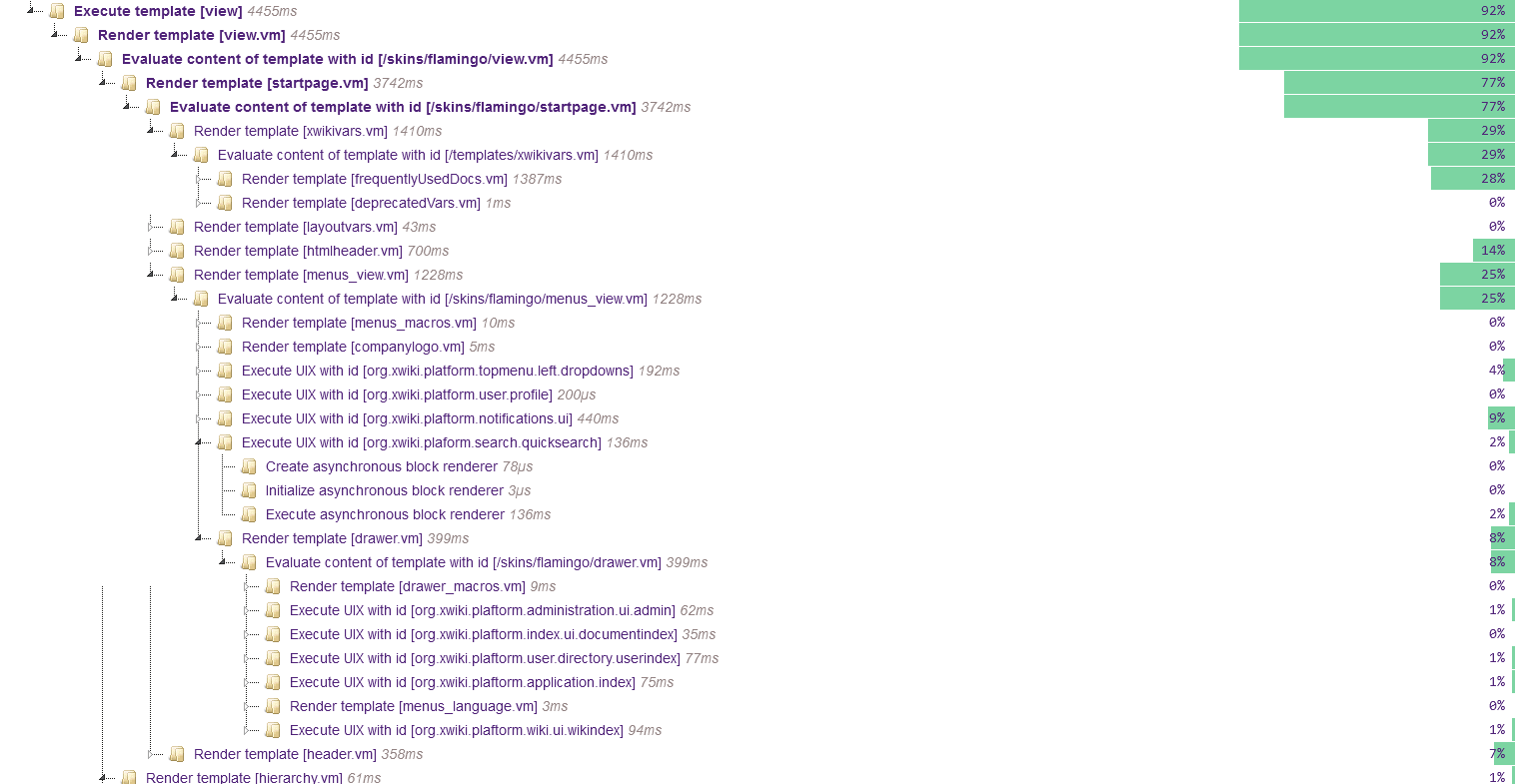 My hypothesis is that due to the amount of documents we have (~ 20.000 if we just sum up a count(*) on the xwikidoc tables in all subwikis), the Page Cache (or Document Cache, meaning the same, right? – the Infinispan name is "xwiki.store.pagecache(local)") is probably too small – it's still at the setting of 500 documents as of the xwiki.cfg. Maybe after a while of accessing several subwikis, some docs are pushed out of the cache and need to be retrieved from the database. What underlines this assumption is that when I clear this cache manually using Groovy (I adapted the scripts from this extension) page loads become significantly slower.
Here are the metrics I can get about this cache, using mbean.getProperty() for each available attribute. Honestly they don't tell me much – apparently the numberOfEntries metric has become deprecated. What I notice is that if I clear the cache, the statistics hardly change, as if they are cumulated since last system reboot.
"xwiki.store.pagecache(local)"

* removeTimes:
* averageWriteTime: 0
* removeMisses: 128
* averageReadTime: 0
* evictions: 100384
* averageRemoveTimeNanos: 267205
* removeHits: 3292
* timeSinceStart: 556477
* missTimes:
* misses: 621598
* hitTimes:
* readWriteRatio: 59.3171283467643
* numberOfEntries: -1
* numberOfEntriesInMemory: -1
* averageWriteTimeNanos: 386245
* statisticsEnabled:
* stores: 110069
* requiredMinimumNumberOfNodes: 1
* hits: 5907379
* timeSinceReset: 556477
* hitRatio: 0.9047939669568449
* averageReadTimeNanos: 26883
* storeTimes:
* averageRemoveTime: 0
* dataMemoryUsed: 0
* offHeapMemoryUsed: 0
* elapsedTime: 556477

I should also mention that we use the OpenID Connect extension for Google SSO and are adding some custom global JSX and CSX extension objects. However, I can't see how this can affect the behaviour described above (except for it might affect the javascript.vm or colorThemeInit.vm execution time (?) - but many templates are slow, not only these).
We could of course increase the page cache as we do have ~ 2GB heap and ~0.5GB non-heap of memory. However, my questions are the following:
Is my Page Cache hypothesis a reasonable explanation for the slow page load?

Is there a timeout when docs are moved out of the Page Cache (there seems to be no setting for that)?

If we increase the Page Cache, should we do that in careful steps or is it safe to move it up to, say, 5000? What are experiences around this setting?

Even without having a doc in the cache, shouldn't the database retrievals be faster? Can it be due to fragmentation and/or long page historys over time? What is the best way of checking whether database queries are a bottleneck - e.g. some test SQLs? (I've e.g. been checking pg_stat_user_tables and see there are several dead tuples in some xwikidoc tables, although autovacuum is on. Not sure if this is important though.)

Side question about the caching of rendered JSX or CSX Velocity code: If we set caching policy to "long", what does this mean exactly – some hours, a day, a week, or is it affected by other factors? I couldn't find any documentation on this.
Any answers or suggestions very welcome!